A Bull's Life
A short biography of an exciting, eventful and long life.
Ole Bornemann Bull is born the 5th of February, 1810, in a flat over Svaneapoteket, a pharmacy on the street Strandgaten in Bergen. His parents are apothecary Johan Storm Bull (1787-1838) and Anna Dorothea Bull (1784-1875), born Geelmuyden.


With ties to the bourgeoisie in Bergen, Ole Bull's family is particularly active in the city's cultural life. His grandfather, Ole Bornemann Bull (1747-1810), contributed to the construction of Bergen Museum, and his grandmother, Gidsken Bull (1751-1833), often sang folk songs and told stories. Johan Storm and Anna Dorothea, Bull's parents, were both amateur actors in the troupe Det Dramatiske Selskab; his father also sung in Det Harmoniske Selskab's choir. Bull's uncle, Jens Geelmuyden (1782-1825), was a proficient cellist who often hosted quartets in his home. From an early age, Ole is often present at both concerts and theatrical performances.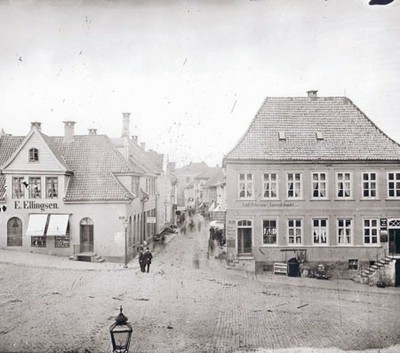 Svaneapoteket on Strandgaten – Ole Bull's childhood home. House #3 on the left side
Tuesdays in Svaneapoteket's salon chamber music was heard. Bull's uncle James and the Danish violinist Johan Henrich Paulsen were among the musicians. Ole often snuck in and hid in order to listen to them, his earliest violin teachers from the age of five.


Harmonien
It is said that during a party celebrating Ole's eighth birthday Paulsen had too much to drink and the birthday boy had to fill in for him. By coincidence, a quartet by Louis Spohr (1784-1859) was played. Ole knew this work and the adults were impressed. From this time on, Ole's playing was taken seriously by his family. Paulsen now recommended that Ole join Det Harmoniske Selskab. On the 19th of October the same year, he was admitted as an "askultant" (a pupil with access to the orchestra), despite the fact that the statutes had to be altered so that someone "unconfirmed" could be accepted. At the age of nine, Bull debuts as a soloist.


When Ole Bull is ten, Paulsen leaves Bergen. He is replaced with a new and better music teacher, Swedish violinist Mathias Lundholm. One story reveals that at the age of 14 Ole heard about the Italian master Niccolo Paganini (1782-1840) and convinced his grandmother to purchase Paganini's 24 kapriser. He practiced them covertly, One day during an argument with his music teacher, Lundholm challenged him to play a piece by Paganini. Unaware that Bull had been practicing, Lundholm was impressed by his rendition.
Student life
In 1828, Bull leaves for Christiania (later Oslo) to study. He is to pursue the priesthood, but fails the Latin exam. In an attempt to pacify his parents, he writes to them of his failing grade " … Still, who knows if it might not be for the better …". The comment seems to indicate a certain doubt about his chosen studies. During Bull's time as a student he also meets and becomes good friends with Henrik Wergeland (1804-1845).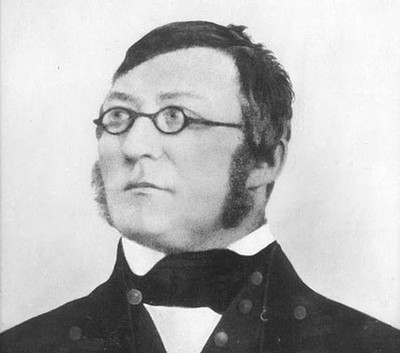 Henrik Wergeland
In the spring of 1829, Bull asks his parents for permission to travel to Copenhagen. He hopes to hold concerts and study harmony here. But instead of remaining in Denmark he continues to Kassel in Germany and requests instruction by German master violinist Spohr. His application is turned down. Spohr suggests instead that Bull attend a music festival to listen to him play, which Bull does. After a stay in Norway, in 1831 Bull sets course for France.
With a fiddle to France
Ole Bull, now 21, sets his sights on Paris. Here he has to begin from scratch, lacking either a well-known name or a reputation. He encounters rejection after rejection, and both his funds and health are failing.


One day while searching for lodgings, a sign for a room catches his eye. The owner, Madame Villeminot, grudgingly admits him; her 14-year-old granddaughter of lives with her, and Villeminot wishes to avoid intrigues. Her concern is not unfounded; the granddaughter, Alexandrine Félicité Villeminot, or, simply, Félicité (1818-1862), is to become Bull's first wife.


Breakthrough in Bologna
Ole Bull travels to Milan in August and holds several concerts around Italy. In Bologna, he contacts the leading singer of the time, Maria Malibran (1808-1836) and her violinist friend Charles Béirot (1802-1870). Upon hearing him play, they are greatly impressed. "But surely you must be celebrated everywhere. How can it be that I have not heard of you before?" Malibran is to have said. This friendship proves beneficial. On the 24th of April, 1934, Bull stands in for the artists at a concert at the Società del Casino, an event Bull later regards as his breakthrough. A slew of successful concerts follows, reaping laudatory reviews and resulting in Bull's election as an honorary member of Bolgna's Accademia Filharmonica. In the spring of 1835, Bull returns in triumph to Paris.


Paris and London
Bull receives a much better reception this time. He holds many performances, including one in the Opera, the first violinist to do so since Paganini himself. In April of the following year, he arrives in London where his concerts inspire rave reviews. The Public Ledger writes "Norway can be proud of having produced such a son. England is most grateful he has come to us."


With a sound financial footing, Bull now returns to Paris in July and marries Féllicité. He is 26, she 18. Happy, they leave for London.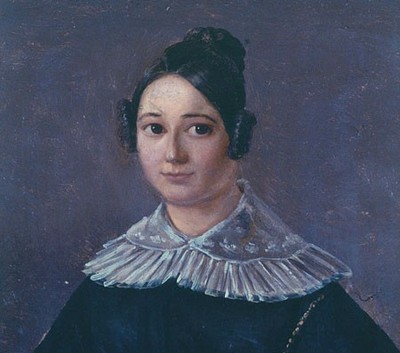 Alexandrine Felicié Villeminot
Life on tour
In the course of a year, Bull plays 274 concerts in Great Britain. On the 15th of September in 1837, Féllicité gives birth to their first child, Ole Storm Felix. The couple plan to travel to Norway, but the journey home turns instead into the start of an extensive tour through Germany, Russia, Finland and Sweden. As they depart Moscow, Ole Bull receives the tragic news that his father has died. Johan Storm never heard his famous son play in public.


In Sweden, Ole Bull is given an audience with King Karl Johan III (1863-1844). He leaves the land as both a member of Sweden's Royal Academy of Music and with the Order of Vasa, surprising not least as
he is an expressed republican. On the 3rd of July 1838, Bull is again on Norwegian soil and is feted both in Christiania and Bergen. After a concert in Christiania, Welhaven (1807-1873) writes the poem To Ole Bull, now a classic in Norwegian literature. Excerpts from the first and second verses:
How sweet to be embraced by the peace of evening,
when the thrush warbles in the wood
and the birch sighs by the river bank,
and the water-sprite plays in the waves!
There is a delight mixed with melancholy,
which the spirits of the north paint,
with muted lay, with the sound of a harp,
with a sigh in the dark valley.
He stood and listened one summer evening
and tuned his strings,
then the chord went from forest and mountain
and over dewy meadows.
And all the strings sounded there,
with wonderful notes,
like the thrush's gurgle and the water-sprite's playing
and a sigh from the tops of the birches.
Northern Europe at Bull's feet
Already in October the family embarks on a new tour. Bull begins in Copenhagen, where he is presented at the court of King Fredrik VI (1768-1839) and becomes friends with H.C. Andersen (1805-1875). Féllicité and his son remain in Copenhagen when Bull moves on. While in Germany in 1839, he receives the unhappy message that his first child has died. Later the same year, on the 29th of October, Féllicité gives birth to his second son, Alexander Ole Felix Étienne.


After a winter vacation in Paris with his family, Bull continues in March of 1840 to London. This time his tour loses money. After becoming acquainted with pianist and composer Franz Liszt (1811-1886), the two musicians decide to travel to Germany and play together. Bull goes on alone from here, to Prague and Russia via Poland, the critics praising his performances.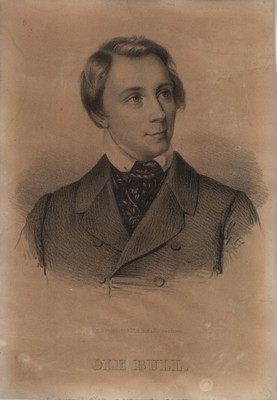 Ole Bull, 1843
In May of 1841, Bull and his family turn homewards towards Bergen and spend a longed-after vacation on his parents' farm, Valestrand. It is here his third son, Thorvald, is born, on the 17th of August. December finds Bull touring Scandinavia, Germany and the Netherlands, and after a brief summer vacation he continues to Uppsala, Copenhagen and Bremen. A fourth child, Eleonore Félicié, arrives on the 25th of April, 1843. Bull writes home to his wife that he will return immediately if she wishes, but then informs her about his next destination, the United States.


The United States part I: Accolades and joy
After settling his family in Paris, Bull leaves in November for The United States, the first Norwegian musician to travel there. His promoter bills him as the world's "greatest violinist" and his first concert in New York is met with much enthusiasm. By Christmas of 1843, Bull has held fifteen concerts along the east coast and writes to Félicité that he has earned 40,000 franc. He proceeds to tour the southern states and continues to Havana, Cuba. "They are the best musici in all of America …" he later proclaims of Cubans.

Félicité is unhappy in Paris, and their fourth son, Ernst Bornemann (born the 6th of June, 1844), dies only 5 months old. Bull never met his son. Due to his picaresque lifestyle and an unreliable mail service, the news reaches him only a half year later.
After playing concerts around the continent, Bull holds his final performance in New York on the 30th of October, 1845.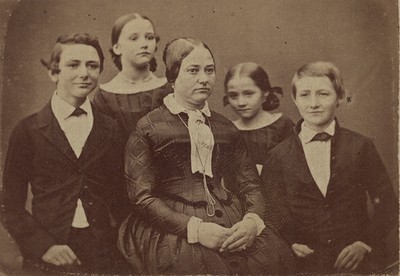 Félicité Bull with her children, approx. 1855.
Tour de France and Spain
Bull is with his family in Paris for Christmas; he doesn't tour again until January, and in the spring he holds concerts in France. His seventh child, Lucie Edvardine, is born in Paris in September. Bull continues to Algeria and Spain. Everywhere he is greeted by an ecstatic public, and a Spanish critic compares him with Paganini. The 16-year-old Queen Isabella II (1830-1904) hears of Bull and requests that he play for her. He leaves the audience with the Order of Charles III, a brooch studded with 140 diamonds, and an offer of the position of general.
On the 24th of February, 1848, what becomes known as the February Revolution breaks out. Ole Bull is in Nantes when he hears of the fighting and returns immediately to Paris. Together with the Norwegian Captain Rosén, he marches to the office of revolutionary leader Alphonse Lamartine (1790-1869) and presents him a Norwegian flag free of the Swedish union colors.
Old Norway
In November of 1848, Bull is in Norway again. He is full of ideas and has purchased a farm, Andøen, near Kristiansand. In Christiania, he holds many successful concerts and in January arranges a performance with Myllarguten (1799-1872), a fiddler whom he had met in the 1830s. This concert proves immensely popular despite its "exotic" nature. At this time Bull composes the classic Seterjentens søndag ("The Milkmaid's Sunday").
The following May, Félicité and the children arrive and Bull moves them into Andøen. After a month here, he travels to Bergen to launch his plans of a Norwegian theater. On the second of January, 1850, Det norske Theater opens to great acclaim. The following year Bull solicits Stortinget for subsidies, but is turned down. Later the same year, he meets Henrik Ibsen (1828-1906) and decides to engage him as a playwright for the theater.
The United States part II: New Norway
Bull returns to New York for the second time at the end of 1851 and holds many concerts. In 1852, he purchases 9,880 acres in Pennsylvania from a land speculator, then establishes a Norwegian colony, Oleana. Over 300 settlers arrive, but the soil is difficult to farm. With sixty miles to the nearest train station, it is a hard life. Already in March of the following year, people begin to abandon the colony. In September, Bull deeds the area back to the seller.


In 1855, Bull is involved in another grand project, the founding of an opera in New York. This proved an expensive mistake; the opera was forced to close after only five performances. More financial losses and unfortunate transactions follow, and in Norway rumors of Bull's problems spread. Félicité receives neither letters nor funds. Bull instructs his lawyer to sell Andøen, but when the money from the sale is exhausted his wife is forced to approach his friends, the Egeberg family in Christiania, for support.


In 1856, Félicité sends their oldest son, Alexander, to the United States to bring Bull home. Instead, Bull takes his son along with him on a one-year tour.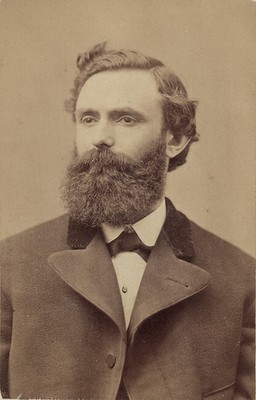 Alexander Bull adult, ca. 1868
Bjørnson and Grieg
Ole Bull returns to Norway in the summer of 1857. Bjørnstjerne Bjørnson (1832-1910) welcomes him and publishes an article in his newspaper extolling Bull. Bull leaves immediately for Bergen to check on the theater, which has been experiencing economic difficulties. The theater's board attempts to persuade Bull to step down, but ends up being disbanded. Bull's choice for a new director falls on Bjørnson.


Now Bull remains in Bergen. One story has it that he met the 15-year-old Edvard Grieg (1843-1910) one summer while visiting the boy's parents. Upon hearing him play, Bull advises Grieg's parents to send Edvard abroad to study. That fall, Edward Grieg is sent to Leipzig to study music. Later that year, Bull purchases Valestrand from his mother and passes the winter there with his family.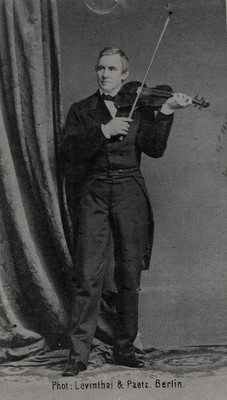 Ole Bull, date unknown.
A Norwegian music academy
From 1860 to 1862, Bull tours Europe. His relationship with his wife has cooled considerably. Félicité is exhausted from a nervous condition, and in February of 1862 she dies, only 43 years old.


Bull is again in Norway later that year with ambitious plans: he wishes to found a music academy. The government puts forth his idea in Stortinget, but the proposal is rejected. That winter he is again performing, now in Germany, Prague and Vienna. In 1865, Bull commences work on a new home on Valestrand, hiring his brother, Georg Andreas Bull, as architect. The house is completed a few years later and is an example of one of the first attempts to copy the old Norwegian style, with vertically projecting ridges, dragon heads and a large room inspired by grand Viking halls. Bjørnson prints a photograph of the structure in his journal Norsk Folkeblad, again lauding Bull.


The United States parts III & IV: Laurels in San Francisco
In the late fall of 1866, Ole bull departs for Moscow on a successful tour which lasts the entire winter. He is showered with gifts by the nobility and other wealthy admirers, including several valuable violins. Among the presents he returns home with are two Arabian stallions. He continues on to Paris where his son Alexander is now studying, and together they set out on a new tour in the United States, Bull's third.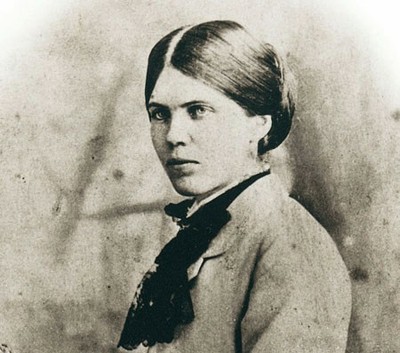 Sara Chapman Thorp, unknown date
The fall of 1868 finds Bull in the U.S. for the fourth time; this time he stays a year. Here, among other things, he attempts to construct a piano with the tonal qualities of a violin. Eventually, Alexander joins him, and they hold a concert in San Francisco, where a crown of laurels is placed on Bull's head. In Madison, Wisconsin, they stay at the home of the wealthy Thorp family. Bull falls for only daughter Sara Thorp (1850-1911). Sara and her parents accompany Bull when he returns to Norway, and in August he and Sara are wed in Madison. She is 19, he 60. Their first and only child, daughter Sara Olea, is born the 3rd of March, 1871.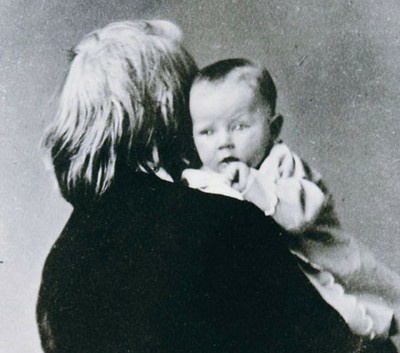 Ole Bull together with his daughter, Sara Olea
Northern Europe and the pyramid concert
While on a visit to Norway in 1872, Bull purchases the property Lysøen on the outskirts of Bergen. A year later the house is finished. The architect is Conrad Fredrik von der Lippe, and the house is an eclectic blend of Moorish and Norwegian styles. Bull stays here with the Thorp family most of the summer of 1873. During the winter, relations between Bull and his stepfamily deteriorate; the Thorps return to the United States the following April.


After a bet with King Oscar II, Bull travels to Egypt in February of 1876 and climbs the Cheops pyramid in Cairo. At the top, he plays his violin. It is his sixty-sixth birthday.


A climactic life comes to an end
In 1876, Bull makes peace with the Thorp family. Two years later he is again on the road with his little family. In Wien, he meets Franz Liszt for the last time, and he plays a few concerts here to sold-out houses.
Bull loves celebrating the 17th 0f May, Norway's Constitution Day, in Bergen. He has his last opportunity in 1879, and is serenaded by the city's inhabitants. On St. Johns Day, in his music hall at Lysøen, Bull holds what is probably his last concert in Norway. Two hundred people attend.


During a concert in Chicago in 1880, towards the end of his last American tour, Bull takes ill. Sick and weakened by cancer, Bull insists on returning to Norway in order to regain his energy.


On the 17th of August he asks Sara to play Mozart's Requiem on their organ in Lysøen. To the strains of this music he passes away, 70 years old.


Bull is given a funeral with honors in Bergen on the 23rd of August. Thousands turn out to stand along the streets as his hearse passes by, and stirring speeches are held by his old friends.


Excerpt from Bjørnsen's memorial tribute:
Ole Bull represents one of the proudest moments of this people's life;
he gave us self-confidence,
the greatest gift we could receive.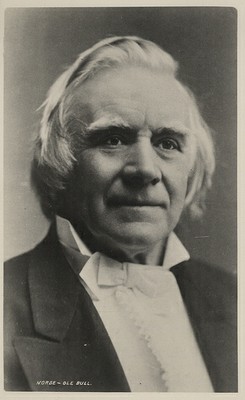 Ole Bull, ca 1880

Literature:
Haugen, E. og Cai, C. (1992) Ole Bull - Romantisk musiker og kosmopolitisk nordmann. Oslo, Universitetsforlaget AS.

Hendriksen, K. (2000) Ole Bull. Oslo, J.W. Cappelsens forlag AS.

Ole Bull -utdypning, Det store norske leksikon. source: <http://www.snl.no/.nbl_biografi/Ole_Bull/utdypning> [21.12.09]


Photographs used are from the photographical archive of Bergen Public Library and Kunstmuseene i Bergen.
<http://www.flickr.com/photos/bergen_public_library/> [21.12.09]
Document Actions