Book launch and award ceremony
Professor Harald Herresthal launched the last volume of his comprehensive Bull biography on Friday, 28 May, winning accolades from the public and the Ole Bull Prize for 2010.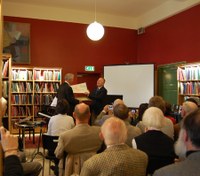 Professor Herresthal has worked on Bull's biography for almost 20 years. The final volume, Drømmen om udødelighet 1862-1880 ('The Dream of Immortality'), was launched at Bergen Public Library on Friday.

Enthused
'I believe Bull dreamed about immortality', Herresthal said in his speech. With slides and humorous anecdotes from Bull's last years, the celebrated biographer presented the results of his research to an enthused public.

Bull was astoundingly active in the final years of his life: he advocated for a Norwegian academy of music, built two beautiful homes ('Bull house' at Valestrand and the Lysøen villa), made several tours throughout Europe and the USA, married for the second time, experienced the birth of his seventh child, and climbed the Great Pyramid of Giza. 'The doctors say I will die, but I have other plans', he is claimed to have said to his brother-in-law from his deathbed – according to Herresthal.

Re-construed Bull composition
Through his research Herresthal has recovered and re-construed several of Bull's works which were thought to be lost.

Variations over Lilly Dale had not been played since the composer died in 1880. Herresthal found the composition at Yale University and sent it to the pianist Wolfgang Plagge and the violinist Annar Follesø, who played the piece based on their knowledge of Bull's style. Plagge and Follesø performed the delightful composition at the book launch.

Bergen Public Library's head librarian, Trine Kolderup Flaten, thanked Herresthal for his collaboration in digitalizing the library's Bull material. Bjørn F. Holmvig, Bergen Municipality's Director of Culture, gave a speech on behalf of the city.

Award
The event concluded with the awarding of the Ole Bull Prize for 2010. Egil O. Laastad presented it to a patently proud Herresthal. The purpose of the NOK 50,000 prize is to increase and perpetuate interest in Ole Bull, and to encourage new generations to carry on Bull's musical legacy.

Meanwhile, although Herresthal has finished the exhaustive biographical project, he is not finished working. Several new projects are in the pipeline. 'As Bull would have said; I haven't put down the bow yet', quipped the prize winner.
Document Actions