Førde Festival celebrates Bull
A new concert-and-stage production about Ole Bull premiers at Førde Folk Music Festival in 2010.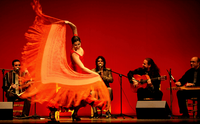 'Bull was the first person to put Norwegian folk music on the stage. We have put together this huge production ourselves and it is our way of paying him homage', says Hilde Bjørkum to Bergens Tidende newspaper.

Ole Bull i Verda (Ole Bull in the World) will focus on Bull as a freedom fighter, as being widely experienced in the ways of the world, and as a proponent of folk music at home and abroad. He drew inspiration from the folk music he heard while travelling both within Norway and internationally, and wrote compositional variations over Norwegian and international folk music.

Support for the oppressed
Featured in the stage-production is biographer Harald Herresthal, who will tell stories from Bull's life. 'Due to his political views, Bull often sided with oppressed groups', says Herresthal to Bergens Tidende.

He went to Cuba and was one of the first to incorporate Creole melodies in his own compositions. In this way he helped raise the status of folk music and the self-confidence of the Cubans. '…They are by far the finest Musicians in the whole of the Americas…' Bull was quoted as saying.

Førde Festival's director also tells Bergens Tidende that Bull supported the American Negroes' struggle for freedom and advocated for the rights of Jews. Here at home he promoted Norwegian language and culture vis-à-vis Danish cultural and linguistic hegemony and Norway's political union with Sweden.

World music
The stage extravaganza follows Bull on many of his world travels. Musical participants in the premier performance include, among others, P.A.B. Garnås on the Hardanger fiddle and violinist Ragnhild Hemsing, both from Norway, the Greek-Norwegian pianist Dimitris Kostopolous, the Polish trio Kroke, the Norwegian-Cuban group Cuba Libre and the Spanish-Moroccan Orquestra Chekara Flamenca.

Førde Folk Music Festival is one of Norway's leading festivals for folk music and Scandinavia's largest festival for acoustic world music. The organizers' goal is to present musical traditions from around the world, yet also to provide a stage for Norway's unique musical heritage.

Festival dates are 8-11 July. For more information see www.fordefestival.no

Ole Bull i verda has received financial support from Ole Bull 2010.

Document Actions