A moment of Celebration!
2010 marked the bicentenary of the birth of Ole Bull. Throughout the year he was celebrated and commemorated in Bergen, across Norway and internationally.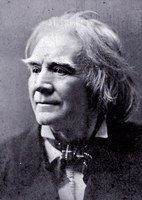 Thanks to all who helped make 'Ole Bull 2010' a resounding 'moment of celebration'.
'Ole Bull 2010' has been a small project-based organization with limited financial resources. We have nevertheless seen that it is possible to organize an extensive program through collaborating with government bodies, cultural institutions and individual actors. This collaboration, along with partial financing of certain events, has reaped rich rewards. During 2010, over 100,000 Norwegians participated in Bull-related events, regardless of whether these were part of our 'official' program or initiated by others.

At the very mention of Ole Bull's name, we experienced good will and exceptional enthusiasm. Cultural institutions, municipalities and other interested parties readily offered ideas, took initiative and hosted events with true volunteer spirit. Throughout the year we saw that Bull continues to incite interest and fascination – 200 years after his birth and 130 years after his death.

'Ole Bull 2010' would not have been possible without generous contributions from our main sponsors: Bergen Municipality, the Ministry of Culture and Hordaland County. A debt of gratitude is also owed to Visjon Vest for its generous funding of the official opening performance at Den Nationale Scene (theatre) and the production of 'Fossegrimen' on Osterøy. In addition, we thank the Norwegian embassies for their help and support.

Music is an art form that exists only in the moment and disappears with the last tone. Yet the bicentenary inspires us to continue to remember the virtuoso and nation-builder who lived in the 19th century. We are pleased to note that Bergen International Festival will continue to commemorate Ole Bull and is planning an annual four-day event called 'The Flame of Ole Bull'. Well-known musicians will participate, and family-oriented programs and gala performances will be produced in connection with Bull's name.

The pageant 'Ole Bull – Fossegrimen på Valestrand' [water spirit from Valestrand], held at Osterøy in August, will most likely continue. The bicentennial has also been the spur for several book publications and music recordings, all of which are enduring commemorations. Hence, although the bicentennial has ended, we are hopeful that the music and memory of Ole Bull will continue for many years to come.

In conclusion, we extend deep thanks to all who helped make 'Ole Bull 2010' a resounding 'moment of celebration'.
Side-alternativer