International Anniversary events
A series of anniversary concerts will be held internationally during the fall.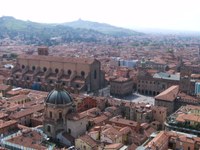 MINensemblet play music by Ole Bull in Bologna, the city where Bull had his breakthrough in 1834
Ole Bull's status as an international star was comparable to that of many of today's top international performers.

The anniversary will therefore also be marked in cooperation with a number of Norwegian embassies in countries where the virtuoso violinist was particularly active.

Program

Italy
The Norwegian Classic Ensemble "MINensemblet" play music by Bull together with violinist Susanne Lundeng:

4 September: Benevento Città Spettacolo festival in Naples, Italy
6 September: Auditorium Parco della Musica in Rome
8 September: Accademia Filarmonica in Bologna

Focus on Ole Bull, Grieg and Norwegian folk music. In cooperation with the Norwegian Embassy in Rome.

Germany
Guro Kleven Hagen (violin) and Gunnar Flagstad (piano)

Music by Ole Bull and Edvard Grieg.
Eilif B. Løtveit from Troldhaugen presents the Concerts Cooperation with the Norwegian Embassy in Berlin.

7 November: Edvard Grieg Begegnungstätte in Leipzig
8 November: in the concert hall of the Universität der Künste in Berlin

Ukraine
Concert with violinist Annar Follesø (KORK) and violinist Gunnar Stubseid (Ole Bull Academy). Concert with orchestra.

Linked with the Bjørnson anniversary 2010 in cooperation with the Norwegian Embassy in Kiev.

25 November: in Lviv (Lemberg).

Document Actions