Kraggerud test-plays 'relay' violin
Friday, 4 June is the day many have been waiting for: on this day Henning Kraggerud test-plays the violin created in the project 'A Violin Is Made'.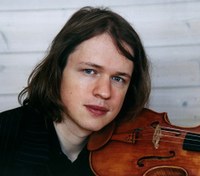 Kraggerud will not only play the new violin; he will compare its sound with that of the original – and with the original's 'twin'.

The new violin is built as a copy of Ole Bull's famous del Gesu violin from 1744. The 'twin', called the 'Terminator', was built by Guarneri in the same year and is also showcased in Permanenten's violin exhibition. This will be a unique chance to hear and compare the three master instruments! Kraggerud will be joined by the pianist Christian Ihle Hadland.

Mark the day: Friday, 4 June, 2:00 - 2:45pm.

Concert goers are welcome to join a guided tour of the exhibition Ole Bull and the Master Instruments immediately after the concert (approximately 2:45pm).

See www.kunstmuseene.no for more information.


Document Actions