Lysøen is open
Lysøen Museum is open – ready for royalty and Ole Bull celebrations.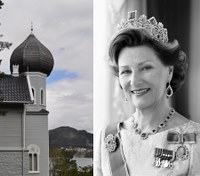 Lysøen opened on Sunday, 16 May, in time for the annual hike around the island. Despite unpredictable weather, 450 hikers participated and the organizers received positive feedback.
'There were fewer participants than last year, but all things considered, we are satisfied', reports Berit Høgheim, director of Lysøen Museum.

The queen is coming
Thursday, 27 May 2010, HM Queen Sonja, patron of Ole Bull 2010, will visit Lysøen. As her visit coincides with Bergen International Festival, the queen will attend a private concert performed by the young violinist Vilde Frang and the pianist Christian Ihle Hadland.

Frang debuted as an orchestra soloist at ten years old and has won many prizes and stipends, not least, the prestigious Norske Solistprisen in 2009.

Bull´s bicentennial birthday
Lysøen Museum will fete Bull's bicentennial birthday by hosting many events in the coming months. The last week in May, during Bergen International Festival, the museum will be the venue for two concerts.

On Saturday, 29 May, violinist Arve Tellefsen and pianist Håvard Gimse will perform and tell stories about Ole Bull. On Sunday, 30 May, violinist Henning Kraggerud and pianist Christian Ihle Hadland will perform works by Bull and his contemporaries.

Other jubilee events at Lysøen will be announced in the weeks to come. Stay tuned.
Document Actions