Commemorative Coin
Friday, 5 February 2010, Norges Bank issued a special edition coin to commemorate the 200th anniversary of the birth of Ole Bull.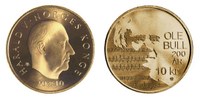 10-kroner coin commemorates Ole Bull
'–The coin is being issued to pay tribute to Ole Bull as a world-famous violinist and composer', says director Trond Eklund from Norges Bank's Cashier's Department in a press release. Eklund underscores Bull's keen interest in Norwegian folk music and the role he played in developing a distinctive Norwegian culture after the union with Denmark dissolved.

The sculptor Wenche Gulbransen created the winning design for the coin's reverse side. The motif combines Bull's portrait with part of the musical score for 'Saeter Girl's Sunday'. The coin's obverse side portrays H.M. King Harald V, in keeping with other special-edition coins in recent years, and is designed by Ingred Austlid Rise from the Mint of Norway.
The coin is the same size as ordinary 10-kroner coins and is legal tender.
Norges Bank has collaborated with Ole Bull 2010 in issuing the coin.

See norges-bank.no for more information.


Document Actions