Ole Bull Celebrations Excite Strad Readers
In honour of Bull's 200th birthday, the international magazine The Strad has devoted 17 pages to 'Focus on Norway'.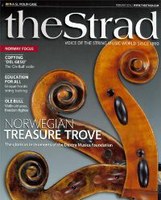 In its February 2010 issue, the international magazine The Strad has devoted 17 pages to 'Focus on Norway'.

The Strad is read by string-instrument enthusiasts the world over. Its February 2010 issue focuses on Norway.

One of the world's foremost collections
Bergen International Festival, Permanenten (West Norwegian Museum of Decorative Art) and Dextra Musica join with Ole Bull 2010 in a monumental celebration of Ole Bull. During the weeks of Bergen International Festival, some of Norway's pre-eminent inheritors of Ole Bull's legacy will perform. These include Henning Kraggerud, Vilde Frang and Arve Tellefsen. One of the most valuable exhibitions (in monetary terms) ever to be held in Bergen will also open.

Since 2006 Dextra Musica (a daughter company of DnB NOR Savings Bank Foundation) has invested in several valuable string instruments. These it loans to talented Norwegian musicians. The Strad describes the collection as one of the world's finest.

'– The collection is stunningly rich in quality and scope', says John Dilworth, a renowned specialist who writes for the magazine.

Exquisite instruments
Henning Kraggerud plays on a violin crafted by del Gesu in 1744 and owned by Dextra Musica. Such instruments, Kraggerud claims, offer performers a whole new sound palette.

Destra Musica hires specialists to travel the world hunting for the very best instruments – at the right price. The instruments are then tested, and this is where Henning Kraggerud plays an important role. In order to get a correct impression of the instruments, Kraggerud test plays them in a concert hall.

Free concerts
Are you curious about how these rare and costly instruments sound? They will not always be locked in vitrines, because Permanenten will host several free concerts. As for regular concerts, not to be missed is the Ole Bull Gala Concert at Grieghallen on 2 June 2010! Link

In addition to exhibiting instruments, Permanenten is pleased to present pictures by the Norwegian artist and photographer Tom Sandberg. Visitors will be able to see his interpretations of the selfsame instruments.


Document Actions