Sunshine for the queen
The sun shone over the newly refurbished villa while HM Queen Sonja visited Lysøen on Wednesday, 27 May 2010.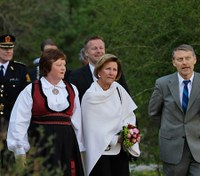 As official patron for Ole Bull 2010, HM Queen Sonja is a most welcome guest at Lysøen, Ole Bull's island on the outskirts of Bergen. The Norwegian government contributed 3.2 million NOK to restoring the landmark, so in the months leading up to Bull's birthday jubilee the villa and island have undergone major renovation.

After greeting the local inhabitants of Os at Buene Quay, the queen was ferried to Lysøen. There she was greeted by Berit Høgheim, director of Lysøen Museum, and Einar Skarbø, chairman of Lysøen Committee. They were joined by the mayors of Bergen and Os, and the foursome escorted the queen to the villa and told her about the renovation projects.

Extensive renovation
'To put it mildly, it did not look all that nice out here a month ago', says Berit Høgheim. So it was with tremendous pleasure that she was able to present a refurbished island to the queen.

Bull's villa now has a new basement floor and a largely renewed roof. This takes care of leaks from both above and below. Drainage ditches have also been dug around the entire villa, so together with the basement and roof projects, there are now far fewer worries for the administrators of this historical monument. One major benefit is the villa's much improved indoor climate. In addition, improvements have been made to Lysøen's many trails, several textiles have been restored, and Bull's piano has been tuned.

Asked for an encore
The newly tuned piano was played during the concert held in honour of the queen. Violinist Vilde Frang and pianist Christian Ihle Hadland performed compositions by Bull, with additional works by Robert Schumann and Richard Strauss. The queen was so pleased, she asked for an encore.
'You will hear a humoresque by Sibelius for desert', replied Frang.

This was the first in a series of concerts held at Lysøen in connection with Bergen International Festival 2010. Arve Tellefsen, Håvard Gimse, Henning Kraggerud and Annar Follesø are some of the musicians performing at Lysøen in the coming weeks.

Frang and Ihle Hadland will return to Lysøen for another concert on 5 June.

See the calendar for the concert program.


Document Actions