Thousands participate in Violin Fest
Approximately 5,000 people visited Ole Bull and the Master Instruments at Permanenten between 26 May and 9 June 2010.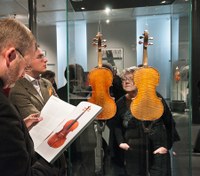 The instrument exhibition won rave reviews from professionals as well as laymen. During the two weeks it attracted approximately 5,000 visitors.

Rare opportunity
With 27 classic instruments built by master luthiers such as Stradivari, Gasparo da Saló and Vuillaume, the exhibition offered a rare opportunity to experience many master instruments at the same time.

Another feature of Permanenten's Violin Fest has been A Violin is Made – a 'violin relay' in which luthiers from across Europe collaborated in building a copy of a Guarneri del Gesú violin previously owned by Ole Bull.

But there is more: in partnership with Bergen International Festival, Permanenten invited the public to nine free concerts featuring well-known musicians and students from the Barrat Due Institute of Music. With roughly 1,500 concert goers, Permanenten's exhibition space has been filled to overflowing on several occasions.

Delighted and satisfied
Jorunn Haakestad, director of Permanenten (West Norway Museum of Decorative Art), is delighted with the number of visitors.
'Seldom do we resort to superlatives, but we consider the exhibition to be a tremendous success', says Haakestad.

She emphasizes that the Violin Fest's many events have made it an entirely unique festival.
'Having 13 Guarneri violins in the museum at the same time has been tremendously exciting. It's almost unprecedented, even from a global perspective, so the whole experience has been singular indeed.'

Although the instrument exhibition has now closed, Permanenten's Violin Fest continues. On Saturday, 19 June 2010, the exhibition Ole's Magical Violin will open. Its focal point is Ole Bull's unique 'angel-headed' Gasparo da Saló violin from 1562.



Document Actions