Master photographs
A visual rendezvous between the photographs of Tom Sandberg and one of the world's foremost collections of string instruments is happening at Permanenten.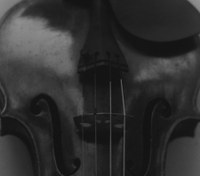 Tom Sandberg has spent the last year photographing a selection of musical instruments in Dextra Musica's unique collection. These photos are on show alongside the exhibition Ole Bull and the Master Instruments.
From New York to Bergen
This will be Sandberg's first museum exhibition since the large solo exhibition Tom Sandberg: Photographs 1989-2006 at P.S.1 Contemporary Art Centre (an affiliate of the Museum of Modern Art in New York) in the spring of 2007.
Sandberg is one of Norway's most profiled contemporary photographers, with works in major galleries, art collections and museums at home and abroad. In 2000 he held a solo exhibition at Astrup Fearnley Museum of Modern Art in Oslo, and in 2005 won the prestigious Fotografiprisen, the highest award granted by the Norwegian Professional Photographer's Fond. Sandberg works in black & white, with compositional visual economy and complex modulations of light that invite a sense of mystery and suspense.
'It's one of the most interesting projects I've ever done', said Sandberg, when asked about the violin pictures. In the fall of 2010 the photographs will travel on to other exhibition venues.
A collaborative exhibition
Dextra Musica, a subsidiary of the DnB NOR Savings Bank Foundation, invests in and lends valuable string instruments to talented Norwegian musicians.
The exhibition Ole Bull and the Master Instruments is produced through collaboration between Dextra Musica, Bergen International Festival, Ole Bull 2010 and Art Museums of Bergen. It features an astounding number of classic instruments made by old masters such as Stradivari, Gasparo da Salo and Vuillaume, and, not least, the original 'Ole Bull' del Gesu violin.
See
www.kunstmuseene.no
, for more information about the exhibition.
Document Actions