Hunting for Tones
In a new documentary from Norwegian Broadcasting Corporation (NRK), a television crew hunts for Ole Bull's elusive sound.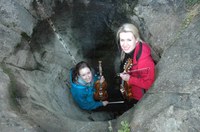 The Hemsing sisters playing at the 'jettegryte'.
Can we recreate Bull's sound by re-enacting events from his life? Producer Trond Lillealtern certainly hopes so. With photographer Thomas Hellum, journalist Steinar Birkeland and Ragnhild and Eldbjørg Hemsing, Lillealtern is in the process of making the documentary Jakten på Bulls tone ('Hunting for Bull's Tones').

Mysterious
'– Ole Bull has almost a mythic status due to his magical sound, but no one alive today has ever heard him play', laments Lillealtern.
There are no recordings of Bull's own playing, and he almost never wrote down the notes for the violin parts he composed for himself. Bull thought no one could ever play like he did anyway – so why should he?

To help 'tone hunt', the TV crew has recruited the young violin talents Eldbjørg and Ragnhild Hemsing. Together they are in the process of visiting places Bull travelled to and seeking to relive events from his life.

The Hemsing sisters as Bull
'– We chose Ragnhild and Eldbjørg because they can relate to Bull in many respects. They master both classical violin and the Harding fiddle. They are ambitious about their careers, while Bull is a story of a career', says Birkeland.

By exposing the sisters to some of the challenges the violin virtuoso faced, the team hopes to gain a better understanding of how Bull played.
'– In Bull's case there was of course a big ego behind the music, and we can assume the things he did as a person affected his sound', adds Lillealtern.

Kaisers Bull-orchestra
The team have made an effort to go to places that could be conceived as associated with Bull's sound. They try to reconstruct special episodes from his youth, when he was still being moulded as a musician and his unique sound was emerging. The Hemsing sisters have performed in the Paris Underground, in Vienna and from atop Snøhetta, thought to be Norway's highest mountain when Bull played there in 1843.

'– Bull was for his era what pop stars are for us today, so we put Ragnhild and Eldbjørg in a Kaizers Orchestra concert, surrounded by hysterical public not unlike what Bull must have often experienced. It was an unusual experience for the violinists but they thrived on it, Birkeland relates.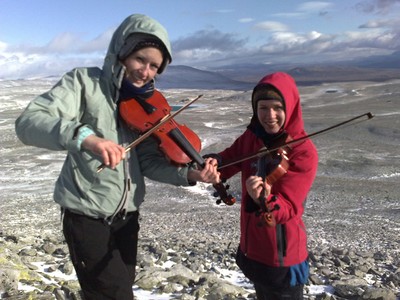 Ragnhild and Eldbjørg Hemsing on top of Snøhetta, 2286 meters above sea level.

Wrong notes
The Hemsing sisters stayed for some days on their own at 'Bullahuset' in Valestrand. There they studied and played music, not least, in a large jettegryte ('witches' kettle') near the house. When Bull was about ten years old, it is said, he played his fiddle in the jettegryte, out of curiosity for the acoustics, but ended up frightening the neighbours, who thought it was music made by trolls.

The goal is to try to understand Bull's sound quality better. In the process the Hemsings are surprised to find that they have sometimes been taught the wrong notes.
'– The music scores that exist today are often much simpler than what Bull himself played', says Lillealtern.

The team is about ready for take off for Bologna, where Bull made his international break-through in 1834. They will then travel to Tel Aviv, but what they are planning on doing there none of the team members will divulge – yet.

The program Jakten på Bulls tone is scheduled to be broadcast this fall.




Document Actions