World-class event at Permanenten
Some of the world's most precious string instruments are now on show at Permanenten, West Norway Museum of Decorative Art.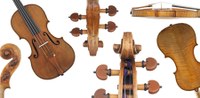 The exhibition Ole Bull and the Master Instruments opened on 26 May 2010, and marks the apex of Permanenten's exhibition program this spring.

The 27 instruments on show are made by old masters such as Guarneri del Gesú, Stradivari, Gasparo da Salo and Ruggieri, just to name a few. It is extremely rare to see so many of the world's finest musical instruments in one exhibition.

13 del Gesu violins
Ole Bull, this year's birthday celebrant, owned a violin which Guarneri del Gesu made in 1744. This instrument is coming to Permanenten all the way from Taiwan. 13 of the Italian master's instruments are on show. No exhibition of this calibre has been mounted since the Metropolitan Museum of Art in New York hosted an exclusive del Gesu exhibition in 1994.

The 'Ole Bull' del Gesu violin is exhibited together with its twin, 'the Terminator', also made in 1744. Meanwhile, the 'Ole Bull' has been the model for the luthiers who recently finished making a new instrument in the project 'A Violin is Born'.

Free concerts
The exhibition Ole Bull and the Master Instruments lasts through 9 June, with several of the instruments being played during Bergen International Festival. From 31 May to 9 June, Permanenten's gallery will also serve as the venue for a series of free concerts. Of the participating musicians, we mention Oslo String Quartet, Elise Båtnes and Henning Kraggerud.

Kraggerud will perform at Permanenten on 4 June, playing on the 'Ole Bull', the 'Terminator' and the new 'relay violin' created in the project A Violin is Born. This is a unique opportunity to hear the three instruments and compare their sound.

See www.kunstmuseene.no for more information.


Document Actions