Violin-Fest at Permanenten
A exhibition of world-class musical instruments is the highpoint of this spring's violin fest at Permanenten.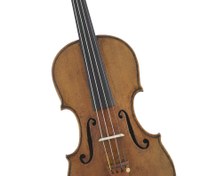 Ole Bull's Guarneri del Gesù violin will travel from Taiwan to Bergen in May.
Permanenten (West Norway Museum of Decorative Art) is hosting an instrument fest in conjunction with Bergen International Festival and the Ole Bull bicentennial.

A Norwegian starts out
Festivities begin on 14 April with the project 'A Violin is Made'. In a luthier workshop in the museum, seven of the world's foremost violinmakers will collaborate on making a violin inspired by Ole Bull's famous Guarneri del Gesù violin (1744). The project commences with the Norwegian violinmaker Jacob von der Lippe. Like a relay baton, the instrument will be passed on to the six other violinmakers and will end up, after about six weeks, as a brand new violin. Henning Kraggerud will play the instrument in his concert in Permanenten on 4 June 2010.

The violin will be on show in the workshop throughout Bergen International Festival and can be test-played by appointment. At the same time, we present an exhibition of modern and newly-made master instruments.

Magnificent exhibition
Later in May, Permanenten is proud to host a magnificent exhibition of world-class violins, called 'Ole Bull and the master instruments'. This includes Ole Bull's 'Guarneri del Gesu', now kept in Taiwan. A selection of Dextra Musica's collection will also be on show. Here you can see instruments built by masters such as Stradivarius, Guadagnini, Rugieri and Gasparo da Saló.

Himmelstormeren
Tom Sandberg is one of Norway's prominent pictorial artists and photographers. During the exhibition you will also be able to view his interpretation of the same instruments. Free concerts will be held each day at 2 pm (31 May – 9 June 2010).

Starting in mid June we open a new violin exhibition, 'Ole and the magical violin', which includes Ole Bull's beautiful Gasparo da Saló violin from 1560. Here visitors can also view the Ole Bull documentary 'Himmelstormeren' from 2006. Tom Sandberg's pictures will be on show at this time as well.

The exhibitions and 'A Violin is Made' are produced through collaboration between Dextra Musica, Bergen International Festival, the Art Museums of Bergen and Ole Bull 2010.

Se www.kunstmuseene.no for more information about Permanenten.


Document Actions